IMMIGRATION
BOND HEARINGS – CANCELLATION OF REMOVAL — DACA — ADJUSTMENT OF STATUS
FAMILY PETITIONS  — U VISAS  — I-601 WAIVERS
WE HANDLE ALL TYPES OF IMMIGRATION MATTERS
AV Rated Preeminent – AVVO Superb – Top 100 Trial Lawyers
Immigration Attorneys in AZ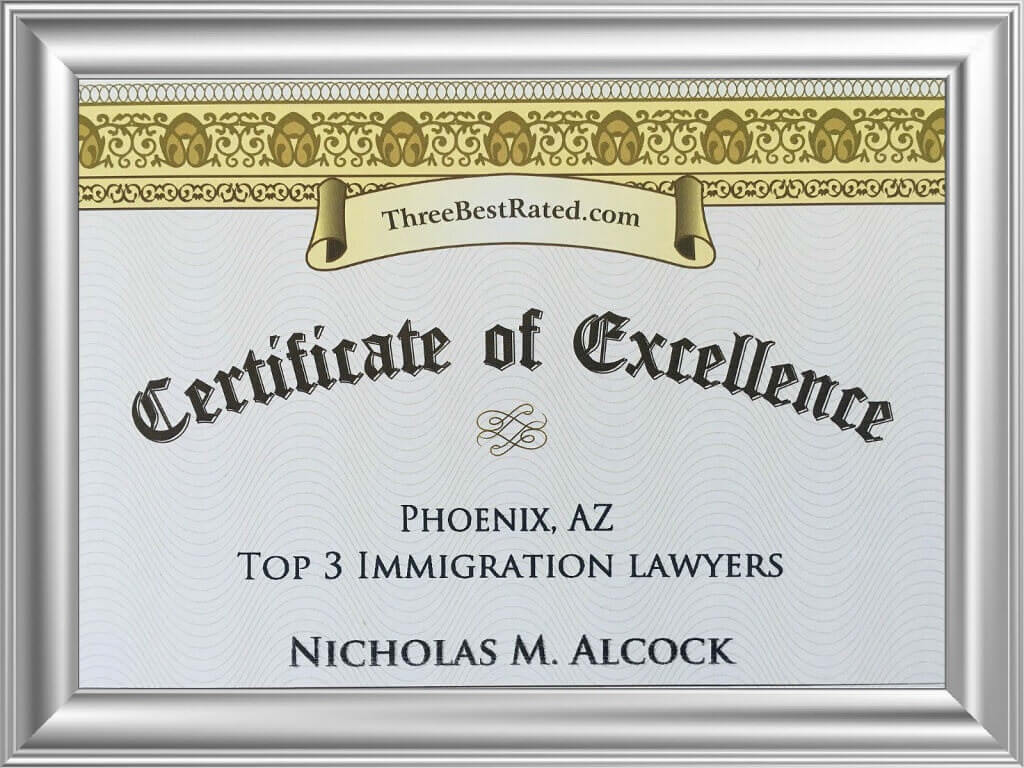 UPDATE RENEWAL CASES FOR DACA.  PLEASE CALL 602-989-5000 FOR MORE INFORMATION!
At Alcock and Associates, we know that there are always changes to immigration law. That's why we offer a FREE CONSULTATION. Unlike some other Phoenix immigration lawyers, we won't charge you money for a consultation.
Immigration cases are tremendously complex.  The smallest oversight can result in permanent consequences.  At our firm we will take our time, prepare, and make sure that the job is done correctly.
Our immigration attorneys have handled thousands of removal and family based cases.  We know the questions to ask and we know how to protect your rights.
As you can see below, we handle virtually every type of family based immigration matter.  We also have immense experience handling in-custody and removal immigration cases.  You can know that your cases is in good hands.
Our Lawyers Handle the Following Types of Cases
Cancellation of Removal for Lawful Permanent Residents (42A)
Cancellation of Removal for Victims of Domestic Violence (VAWA)
Family Petition for Alien Relative (I-130)
Naturalization (Citizenship) Applications (N-400)
Petition to Remove Conditions on Residency (I-751)
Prosecutorial Discretion/ Administrative Closure
Asylum/Withholding and Convention Against Torture (I-589)
Acquisition/Derivation of Citizenship Claims (N-600)
Appeal a Case Decision to the Board of Immigration Appeals
Affordable Payment Plans
We offer affordable payment plans for all of our immigration clients.  We understand that it can be expensive to pay both USCIS fees and an attorney at the same time.  That's why we work with you to come to a financial plan that fits your needs.  If you or your loved one is in jail we can help. Our immigration law firm can handle both immigration and criminal defense cases.
We have attorneys on staff who are former city and county prosecutors. We know the system inside and out. Alcock and Associates handles criminal cases in every court in Maricopa County, and our immigration lawyers handle immigration cases in Phoenix, Florence and Eloy. It is our mission to provide the highest level of customer service. Simply put, we get results.
Free Consultations & Free Case Evaluation
Once you come to our office you will see how we are completely dedicated to helping our clients. That's why we never charge for a consultation. We know that keeping your legal status in incredibly important. We also understand the strain you are under. If your loved one is in immigration custody, the first order of business for our firm is to determine if we can get a bond.
A bond enables a person to be released and live outside of custody during the immigration court proceedings. Our Phoenix immigration attorneys will help determine whether or not you or your loved one is bondable. We will also find our whether or not adjustment or status or cancellation of removal is possible. We want to tell you what can happen, how we can help you and what to expect. The consult is free of charge. All you have to do is call.
Immigration Lawyers Who Care
At Alcock and Associates we will review your case for free. We will carefully explain what legal remedies are available and the likelihood of winning your case. We will always completely honest with our clients. Of course, every immigration law case is different. We will be realistic in our assessment of your case.
Our Immigration Attorneys offer AFFORDABLE PAYMENT PLANS. We never ask for credit checks and we will work with you to develop a payment plan that fits your budget. No one expects to be incarcerated or detained. We know that economic times are hard, and we are willing to be as flexible as possible.
Give us a call to find out more information and learn how we can help you.