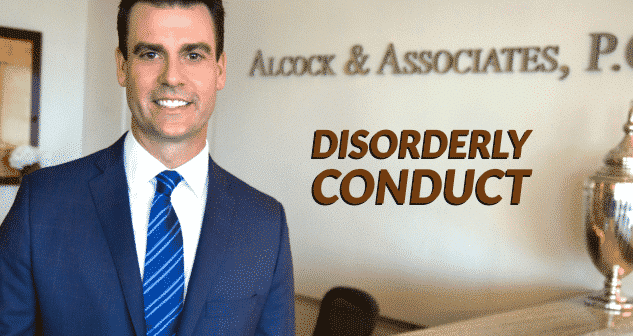 Criminal Defense Attorney Explain Disorderly Conduct
Our law firm has handled hundreds of disorderly conduct cases in Arizona. If you have been arrested for disorderly conduct, we invite you to call our experienced criminal defense attorneys so that you can get answers before court.
There are two different types of disorderly conduct charges in Arizona: misdemeanor and felony.  Felony disorderly conduct involves the display or discharge of a weapon.  Additionally, disorderly conduct can be charged as a more serious domestic violence offense if it involves a family member or someone you live with.
Here is the Arizona Statute regarding disorderly conduct.  Scroll down to learn more about how that law could be applied to you.  If you want to speak to an attorney about your case, please contact us immediately to schedule your free consultation.
DISORDERLY CONDUCT 13-2904.
A. A person commits disorderly conduct if, with intent to disturb the peace or quiet of a neighborhood, family or person, or with knowledge of doing so, such person:
1. Engages in fighting, violent or seriously disruptive behavior; or
2. Makes unreasonable noise; or
3. Uses abusive or offensive language or gestures to any person present in a manner likely to provoke immediate physical retaliation by such person; or
4. Makes any protracted commotion, utterance or display with the intent to prevent the transaction of the business of a lawful meeting, gathering or procession; or
5. Refuses to obey a lawful order to disperse issued to maintain public safety in dangerous proximity to a fire, a hazard or any other emergency; or
6. Recklessly handles, displays or discharges a deadly weapon or dangerous instrument.
B. Disorderly conduct under subsection A, paragraph 6 is a class 6 felony. Disorderly conduct under subsection A, paragraph 1, 2, 3, 4 or 5 is a class 1 misdemeanor.
How The Law Can Apply to You:
Our attorneys have won many disorderly conduct cases in Arizona. Our staff includes former prosecutors who understand disorderly conduct statutes and how to best handle the charges in court. As a result, we have obtained many positive results for our clients.
Disorderly conduct is a serious criminal charge. It is important to remember that every criminal case is different and will be treated differently by the prosecution. Disorderly conduct in Arizona is defined very broadly. It includes a variety of actions that at first glance don't seem illegal. For example, it is disorderly conduct to make any "protracted commotion directed at a lawful meeting."  Furthermore, the police do not uniformly charge people with disorderly conduct.  We see cases where one person is charged with a felony and other similar cases where the individual receives a simple warning.
Are You Facing Prison Time?
Most people charged with disorderly conduct do not face lengthy prison sentences. However, a disorderly conduct conviction can have a tremendous long-term impact on a person's life. These charges can have domestic violence designations. Felony disorderly conduct charges can result in long probation terms. As a result, it is always best to seek legal help to minimize the consequences.
Please contact one of our criminal defense attorneys to discuss the details of your disorderly conduct case. We offer a free consultation and can answer many of your questions right over the phone. Call us at 602-989-5000.