DUI
AV RATED / AVVO SUPERB DUI ATTORNEYS – FREE CONSULT – 602-989-5000
ANY AZ COURT: DUI – EXTREME DUI – AGGRAVATED FELONY DUI
MEMBER TOP 100 TRIAL LAWYERS
WE WANT TO WIN YOUR DUI CASE
AFFORDABLE PAYMENTS AND FEES

We Work To Achieve Positive Solutions. 
Our goal is to look for winning strategies for your Arizona DUI case.  Our DUI attorneys are focused and aggressive, but we also work hard to get to know our clients personally.  We always adopt the optimistic approach when representing DUI cases because that's who we are.
We believe in straight talk and clear answers. Let us help you with free, honest and direct legal advice.  We will assess the facts of your case, explain how the DUI system works, and look for concrete ways to win your case. The call is free.
You Will Feel Better After Meeting With Us.
Many people panic when they learn the maximum penalties for impaired driving in Arizona.  We urge you to remember that every case is different, and while technically speaking a person can receive the maximum, oftentimes people who are convicted receive far less.  We have found that many clients feel so much better about learning the reality of their legal situation, and we are glad to help!
Learn What You Need To Know About DUI.
We will answer your questions and give you the honest truth about your DUI case.  How much time are you really facing?  What will happen to you driver's license?  How much are possible fines and fees?
We Look For Ways To Win! 
Our approach is positive and straightforward.  We want to find the way to get you back to where you were before your DUI arrest.  Our team has won thousands of criminal cases statewide.  We know that the most important thing for you is to avoid a criminal conviction.  That's our focus, and that's what we strive to do with every client we represent.
Experienced Former Prosecutors and Judge.
We have the expertise, the trial experience, and most importantly the desire to win your case.  Our staff includes numerous former DUI prosecutors and a former judge with the Arizona Motor Vehicle Department.
Affordable Fees and Payment Plans.
We work with our clients to offer affordable fees and payment plans to suit your budget.  There are no credit checks of any kind.  Call our experienced team now and let's get started.  602-989-5000.
Click Below For More Information On DUI
Put Our DUI Experience To Work
DUI attorney Nick Alcock has handled thousands of DUI cases in every court in the Valley. He has over 18 years experience handling both misdemeanors and felony DUI cases. He has dedicated his practice to helping people who need aggressive and effective representation.  As with all of his staff, Nick approaches all of his clients on an individual basis.  He looks for ways through the legal maze, all the while focusing on the positive and seeking positive results.
Attorney Mark White is an ex-administrative law judge with the motor vehicle department.  He is also a former prosecutor with extensive DUI training.
Attorney Elizabeth Maupin is a former DUI prosecutor who has handled thousands of impaired driving cases.
DUI Attorney Joy Riddle is a former felony assistant county attorney, who has extensive DUI training and experience.
Simply put, our firm focuses on winning DUI cases in Arizona.
Positive Results - Positive Approach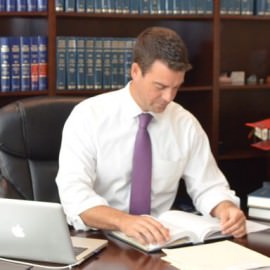 Our firm has a strong track record of winning DUI cases. We have won hundreds of DUIs and know what it takes to get a great result. While no DUI attorney can promise a result in a case, we can promise that we will do everything possible to get you the best result. Call now to see what we can do for you.
We have the results to show it.  Our list of won cases includes both felony and misdemeanor DUI matters.  We know that one of the reasons we are able to negotiate successfully with the prosecution is due to the fact that we are routinely litigating DUI cases in court and getting results.
As you can tell from our list, we have a strong track record.  We get continuous results because we dedicate ourselves to our clients.
Top Tier Customer Service
All clients of the firm can call their DUI attorney directly. You can call your lawyer's cell phone and get answers fast. We understand that you might have many questions about potential jail time, the interlock device, community service fines and fees. Our job is to take the fear and mystery out of the process so that you can know the truth about your situation. As a result, we make customer service a top priority. Your case is extremely important to us. Give us a call and see for yourself.
Affordable DUI Payment Plans
Nobody plans on a DUI arrest. We understand that people need time to get their finances in order. We can start a case with a down payment and tailor a payment plan to meet your needs.
We offer a simple flat fee and never charge extra for trial or hourly charges. This is important, because if you want to go to trial, we don't want your finances to factor in the decision. Our law firm gives you the best of both worlds, world-class legal talent at a truly affordable price.
Representing Clients Across AZ
We handle cases throughout Arizona, including Scottsdale, Tempe, Chandler, Mesa, Glendale and all courts throughout the valley. The law firm of Alcock and Associates has experienced DUI lawyers dedicated to winning your case.
We offer affordable flat fees for Criminal Defense and DUI cases. We have handled thousands of cases throughout the valley and we know what it takes to win.
We Handle All Types of DUI Cases
Whether you are charged with a misdemeanor DUI or an Aggravated DUI (either a class 6 or class 4 felony), we can handle it. An experience DUI attorney is ready to sit down and discuss the circumstances of your case at no cost to you.
We offer affordable payment plans for DUI cases. Our DUI attorneys have years of experience in Maricopa County Superior Court, Phoenix Municipal Court, Mesa City Court, Glendale City Court and Tempe Municipal Court.
We also are aware of the fact that prior DUI arrests can drastically affect plea offers and sentences.  We will do everything that we can to limit the damage a prior DUI arrest has on your future.
Learn More About DUI — Click the Video Below
Protect yourself with information–Call us for a free consultation
We Represent Clients Across Arizona  We know how to handle your DUI case, All Maricopa County Justice Courts…, All Maricopa County Superior Courts..
Apache Junction
Avondale
Chandler
El Mirage
Glendale
Goodyear
Litchfield Park
Mesa
Peoria
Phoenix
Scottsdale
Tolleson
Surprise
Tempe
Buckeye
Carefree
Cave Creek
Fountain Hills