Awards and Accolades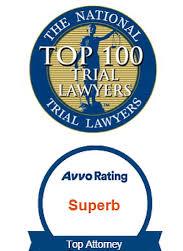 We have been recognized by numerous organizations as a top tier law firm in Arizona.  We are also members of numerous bar associations, including Maricopa County and the Federal Bar Association.
Rated top 100 by the National Trial Lawyers Association, we are known as a firm that litigates in court aggressively.  The legal organization Martindale Hubble has ranked us as "AV rated – Preeminent" which is the highest distinction available.  Similarly we are rated "Superb" by the legal institution AVVO.
You can be confident that our group–containing former prosecutors and a former adminstrative law judge– is professional, ethical, highly trained and capable to handle your legal needs.
Our office is located on the top floor of the Renaissance building in downtown Phoenix.  We thank our clients for getting us to the top and we appreciate the opportunity to represent them.
6,000+ DUI CASES HANDLED SINCE 2000
10,000+ MAJOR FELONIES HANDLED SINCE 2000
Millions and Millions For Our Clients Personal Injury Settlements Since 2000
Click on our videos for DUI & Criminal information
At our law firm we have won hundreds of cases. We owe our strong track record to three things. We have a team of attorneys who know how the system works. We are totally dedicated to solving your legal problems.  If you would like more information, please feel free to click on the videos to the right to learn more about our team.
We are dedicated to providing honest and ethical representation to our clients.  There are no sales pitches at our firm.  Instead, we strive to inform our potential clients as fully as we can and then let them make the decision that is right for them.  We also strongly believe in giving back to the community.  Our firm has donated over a million meals to needy families across the world.  Click here to learn more about our charity work.
MORE INFORMATION