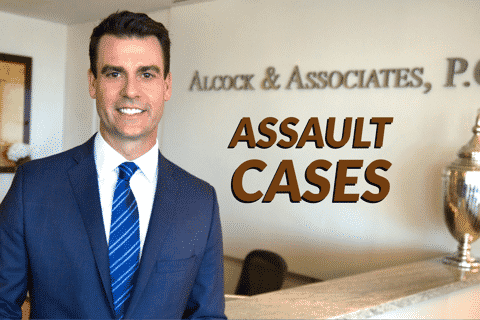 What You Need To Know About Assault:
Our lawyers for assault charges have handled assault cases throughout Arizona. If you have been arrested for an assault case, we are willing to meet with you today to help you through the process. We understand that the criminal process can be confusing and scary. We strongly advise that you contact our defense lawyers BEFORE your first court date. This will give us the best opportunity to prepare a defense and make sure that everything possible is done to win your assault case.
There are many different types of assault charges in Arizona. A number of factors come into play when determining how an assault should be charged. Some cases may be simple misdemeanors. Other cases that look similar on the surface may be charged as serious felony cases.
Our law firm has handled thousands of assault cases throughout the state. Here are some basic questions that we ask to determine the seriousness of your assault case.
Here are the some of the factors that can make an assault case more serious.
Was the victim seriously injured? (broken bones)
Was the assault potentially deadly? (choking)
Was the victim a child?
Was the victim a police officer or school official?
Was a weapon used? (knife, bat, gun, auto…)
These factors can affect the way the government charges and prosecutes an assault case. Obviously cases involving deadly weapons and/or children are far more serious.
Misdemeanor or Felony?
How do you know if you are charged with a misdemeanor or felony assault? If you have to go to a city court, you are probably charged with a misdemeanor.
However, if the victim is a public official or police officer, a weapon was used, or there was serious bodily injury, assault can be charged as a felony. If you have to go to superior court, you are probably charged with a felony.
Domestic Violence Charges:
Assault can be a domestic violence offense if the alleged victim lives at the same address as the accused. Domestic violence is a separate designation, and can lead to serious consequences for anyone who is found guilty.
The defenses to assault include self defense and defense of others.
Another defense to assault is that the crime did not take place. Many times assault cases can successfully defended because witness statements are confused or contradicting.
Winning Assault Cases in Arizona:
Here's an example of a successful result for an assault case. Our firm won a very serious felony assault case. Our client took his case to a trial by jury. Our client, though he was arrested, was threatened by two men in a parking lot. The men later told the police that our client had pointed a gun at them. In Arizona, merely pointing a gun at someone can lead to charges of Aggravated Assault, a Class 3 Dangerous Offense. This crime carries with it significant mandatory prison time.
Our firm presented evidence to the jury that raised substantial doubts about the victim's stories. We demonstrated that it was quite possible that the alleged assault never took place and that the so called victims had invented their story. As a result, the jury returned a verdict of "Not Guilty."
If you need to contact a criminal defense lawyer about an assault case, give us a call. The consultation is free.
The Assault Statute in Arizona:
Arizona Revised Statute 13-1203.
A. A person commits assault by:
1. Intentionally, knowingly or recklessly causing any physical injury to another person; or
2. Intentionally placing another person in reasonable apprehension of imminent physical injury; or
3. Knowingly touching another person with the intent to injure, insult or provoke such person.
B. Assault committed intentionally or knowingly pursuant to subsection A, paragraph 1 is a class 1 misdemeanor. Assault committed recklessly pursuant to subsection A, paragraph 1 or assault pursuant to subsection A, paragraph 2 is a class 2 misdemeanor. Assault committed pursuant to subsection A, paragraph 3 is a class 3 misdemeanor.