NICHOLAS M. ALCOCK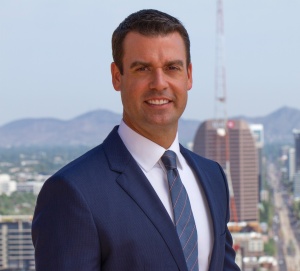 The Law Offices of Alcock & Associates, P.C.
President and Sole Managing Partner
One Renaissance Square
2 North Central Avenue, 26th Floor
Phoenix, Arizona 85004
Phone (602) 404-6000
Fax (602) 992-8244
azattorney@yahoo.com
www. alcocklaw.com
Biography:
Nick Alcock is an Arizona native. Raised in the East Valley, he attended Tempe High School. He received his bachelor's degree from the University of California at Santa Barbara, where he graduated with Honors. He then returned to Arizona State University where he completed his law degree and Master of Business Administration, receiving Dean's List Honors.
He then was admitted to the Arizona State Bar and United States District Court. Mr. Alcock founded his law firm with the goal of gathering the best and brightest lawyers and paralegals he could find. He strongly believes that being a good lawyer requires a dedication to both legal and personal relationships.  He hires people with heart, conviction and a positive outlook on life. His firm adheres to the highest ethical and legal standards. He lives in Phoenix with his wife and two children.
His Areas of Practice:
Criminal Defense:
Misdemeanors and Felony Cases
Municipal, Superior Courts and Federal Courts in Arizona
Immigration Matters:
Cancellation of Removal
Adjustment of Status
Visas
Family Based Matters
Personal Injury:
Personal Injury and Accident Cases
Catastrophic Accidents Serious Physical Injury/Death
Medical Malpractice
Bar Admissions:
Arizona State Bar, 1998
US District Court, District of Arizona
Education:
Arizona State University, College of Law, Tempe, Arizona,  J.D.
Arizona State University, College of Business, Tempe, Arizona, M.B.A.
University of California at Santa Barbara, Santa Barbara, California B.A. Major: Political Science