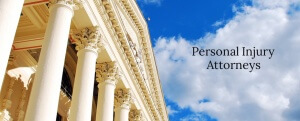 Have you recently experienced an accident that has left you injured?  Regardless of the complexity or severity of your injury, you are may be feeling overwhelmed, in pain, and confused about the next step that you need to take.  If you are being treated for your injury by a doctor you know that there will be bills to pay. But, if the accident is not your fault, why should you have to pay those bills?  Navigating the aftermath of an accident and injury can be confusing and overwhelming, but, if you hire a personal injury attorney, you can dramatically streamline the process and focus on healing.  Below are 5 reasons to hire a personal injury attorney if you have recently been involved in an accident.
Red Tape

Legal procedures, medical terminology, insurance contract jargon – it is all very complicated and difficult to navigate if you are not an attorney and/or medical professional. An experienced legal professional knows how to navigate all of the red tape that comes with personal injury law so that you do not have to.

Objectivity

When you have experienced an injury as the result of an accident, it may be painful and emotional. You are likely not in a place to objectively handle the aftermath of an accident or trying to deal with insurance companies.  Rather than getting angry, frustrated or just exhausted, hire a personal injury attorney that can objectively handle your personal injury case and help you get the best settlement.

Experience (with other lawyers and insurance companies)

In addition to dealing with complicated paperwork and red tape, it can be overwhelming, intimidating and confusing to deal with insurance companies and other lawyers. If you are not experienced in the area, you might feel intimidated or confused into making a decision that is not in your best interest.  Ultimately, insurance companies are out to protect themselves and pay the least amount possible.  A personal injury attorney has experience working with other lawyers and insurance companies and will not be intimidated into making a decision.  They will fight with knowledge and experience to get you the best possible settlement.

You Don't Pay Your Personal Injury Attorney Unless You Win

At Alcock Law, we will only charge you for our services if we win your case. The last thing you want is to pay legal fees to an attorney that is incapable of winning your case.  At the end of it all, if you have paid for a lawyer and don't win, you are then responsible for your injury-related bills as well.  That is never the case when you work with Alcock Law.  When you work with us, there is no out-of-pocket cost.  We will only get paid out of what we have recovered for you when we win.

Better Settlements

The bottom line is, when you work with a personal injury attorney, you will get a better settlement. You can certainly opt to represent yourself in your personal injury case but, because of the all of the things previously mentioned, the odds are much higher to get a better settlement when you work with an experienced, knowledgeable, objective personal injury attorney.