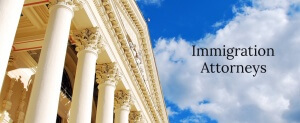 Immigration cases are incredibly prevalent in Arizona.  At Alcock & Associates, we are proud to be Arizona's premiere immigration attorneys and have successfully represented thousands of clients.  We know that immigration cases can be exceptionally frightening, stressful and confusing.  We are here to help you understand your case, help you navigate the Arizona immigration system, and provide you with the highest level of customer service possible.
We care about all of our clients which is why we offer free consultations and evaluations for your immigration case.  We will always provide you completely honest, realistic feedback because every immigration case is different and we want you to have the best understanding of your case possible.  We want to help you keep your legal status and we never want money to stand in the way of that so we also offer affordable payment plans.  Additionally, we never ask for credit checks and will work within your budget to ensure you are comfortable with your payment plan.  We have a well-rounded team of lawyers with extensive experience including attorneys who are former city and county prosecutors so we know the immigration system inside and out.
In immigration cases, time is often of the essence so it is best to hire an attorney as soon as possible and let us get to work quickly on your case.  If you or a loved one is in immigration custody, our first priority will be to determine if we can get a bond and, if so, enable you or your loved one to be released and live outside of custody during the immigration court proceedings.  Once bond status has been determined, we will look into whether or not an adjustment of status or cancellation of removal is possible.  These are just the first lines of defense in immigration cases but we are here to represent you throughout the entirety of the complicated process.  Below are 8 types of immigration cases in which we at Alcock & Associates can expertly represent your interests.
8 Types of Immigration Cases Alcock & Associates Represents
Bond Hearings
Family Petitions
Citizenship
DACA
U-Visas
Adjustment
Cancellation of Removal
601 Waiver